SUGARLITTLEMAJESTIC
Date of Birth: January 04th, 2019
Breed; AQHA
Sex: Mare
Color: Sorrel
Owner: QUARTER DREAM

Programs Enrolled in: NRHA EU/USA NOMINATION
SUGARLITTLEMAJESTIC | Pedigree
| | |
| --- | --- |
| | Wimpys Little Step |
| Sire: SUGAR LITTLE STEP | |
| | Ah Sugar Sugar |
| | |
| | Smart Spook |
| Dam: GUNNA BE SPOOK | |
| | Gunna Be Majestic |
| | |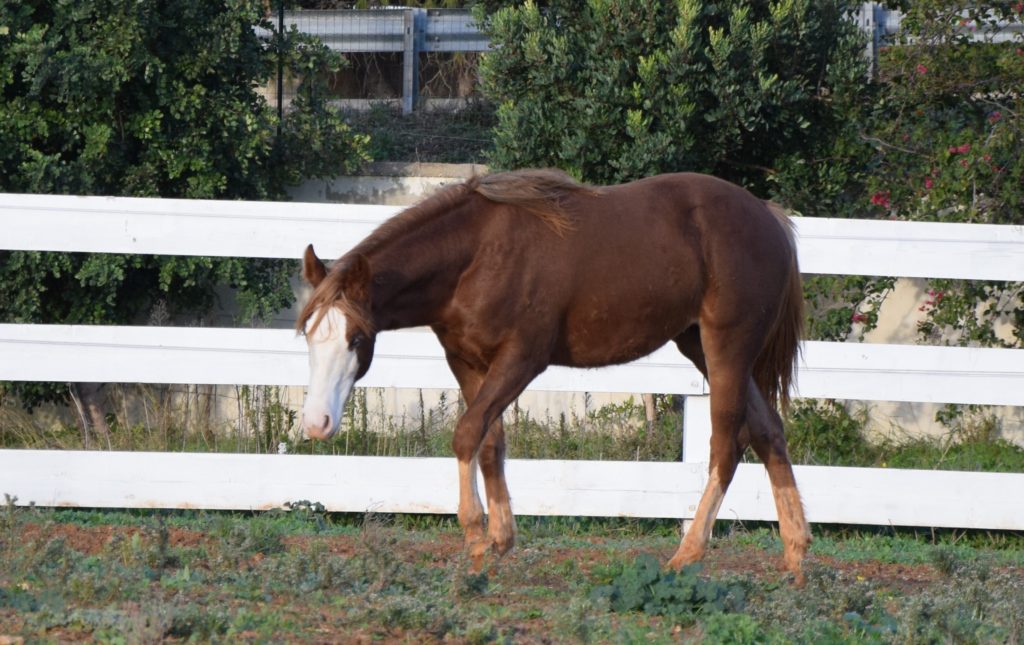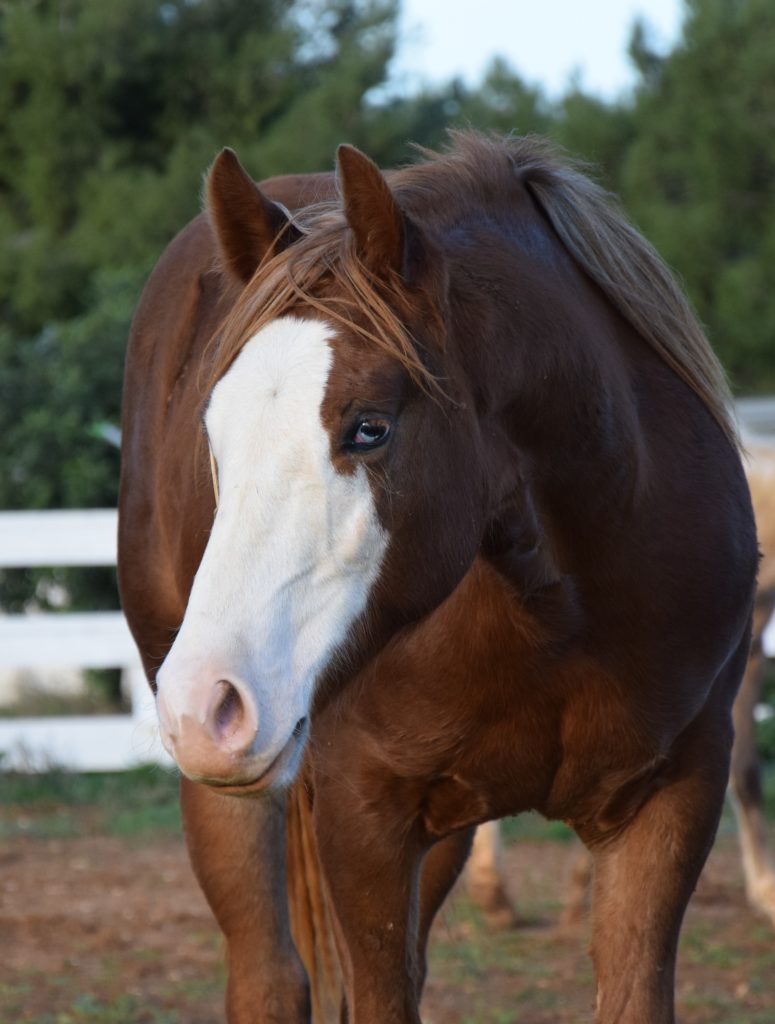 Sire: SUGAR LITTLE STEP (NRHA LTE: +$ 87,300.00 | 2015 NRHA Germany Breeders Futurity Ltd Open 3Y Finalist; 2016 NRHA Swiss Derby Lev. 4 Open Champion; 2016 NRHA HorseAcademy Lawson Trophy Open 5th Place; 2016 NRHA European Derby Lev. 3 Open Champion (228,5); 2016 NRHA European Derby Lev. 4 Open Co-Reserve Champion (228,5); 2017 NRHA Italian Derby Lev. 4 Open 3rd Place (223); 2018 NRHA Rome Shoot In Open 3rd Place (226); 2018 NRHA Italian Derby Lev. 4 Open Co-Reserve Champion (222,5); 2018 NRHA Oklahoma City Derby L4 Open Finalist (224 1 GO – 220,5 Final); 2019 Roma Cavalli NRHA Rome Shoot In Open 7th Place (224,5); 2019 NRHA European Futurity NRHA Intermediate Open Anc. Class Champion;2019 NRHA Italian Derby L2-L3 Open Go-Round Leader (219);
2019 NRHA Italian Derby L2-L3 Open Champion, L4 Open Co-3rd Place (223); 2019 NRHA European Derby L2-L3 Open Champion, L4 Open Co-Reserve Champion (220,5); 2019 Elementa Masters Premiere Int. Open 3rd Place, Open Top 15 (220,5). | by Wimpys Little Step – NRHA 11 Million Dollar Sire.)

Dam: GUNNA BE SPOOK (by Smart Spook – leading money earning and siring son of NRHA Hall of Fame Stallion Smart Chic Olena, who has sired over $10 Million earners in Reining, Cutting and Cowhorse and over $6.5 Million in Reining alone. Smart Spook's dam is Sugarplum Spook by Grays Starlight. She is the producer of 10 money earners, winning over $500,000 and 350 AQHA points in Reining, Cutting and Cowhorse events. She is also the full sister to NCHA Open Superstakes Champion, A Little Starlight, who won over $205,000. Smart Spook has very strong performance genetics on both sides of his pedigree, as well as great conformation and attitude, making him one of the best qualified and most exciting performance stallions of the new millennium. Smart Spook was the first horse to win the NRHA Open Futurity and Open Derby back to back and he further went on to win the AQHA Junior Reining World Championship and three successive years of the Open and Restricted Open FEI World Reining Masters. His cumulative earnings now exceed $405,000, making him the highest money earning stallion in the NRHA. Among Smart Spook's get are the 2014 Open NRHA Futurity Co-Champion, Shine N Spook, two NRHA Open Futurity Reserve Champions, two Non-Pro NRHA Futurity Champions, Spooks N Sparks and Smart Chuka, several AQHA World Championship Top 10 winners, including a 2014 Reserve World Champion, an NRBC Level 1 & 2 Open Champion, Level 3 Open Reserve Champion, European Derby and Italian Open Derby Champions and Reserve Champions and winners of many prestigious events, including the 2014 Open World Champion, Ebony Spook. Not only is he the second youngest Million Dollar sire, but his offspring have now earned in excess of $2.6 million, making him the 2 time Leading Equistat Junior Sire. He is now within the Top 15 all time Leading sires of NRHA money earner. x Gunna Be Majestic – Earner of over $ 60,000.00: 2011 NRHA European Futurity Open, Int. Open Finalist; 2011 NRHA Italian Maturity ancill. classes Novice Horse Open Champion; 2011 ARHA Western Star Derby Int. Open 1st go Champion; 2011 ARHA Western Star Derby Open 4th place; 2011 NRHA European Derby Open/Int. Open Finalist; 2011 NRHA Germany Breeders Futurity Lev. 4 Open 4th; 2011 NRHA Italian Futurity 4Yrs Old 1st go Champion, Re-Champion in the final; 2012 NRHA Winter Trophy Open Corropoli Champion; 2012 NRHA Roma Cavalli Open 6th; 2012 NRHA 23 Classic Open 5th; 2012 ARHA Futurity ancill. classes Open Champion; 2012 NRHA European Derby Lev 4 Open Finalist; 2012 NRHA Italian Maturity Open 5th; 2012 NRHA Reining International de Lyon Open 3rd; 2013 NRHA Reining International de Lyon Open 4th; 2013 NRHA Battle In The Saddle Open 3rd; 2014 NRHA 23 Classic Open 3rd;
2014 NRHA Roleski 4 Spins II Open 3rd; 2014 NRHA SVAG CS Classic Open 4th; 2014 NRHA European Derby Lev. 4 Open Finalist).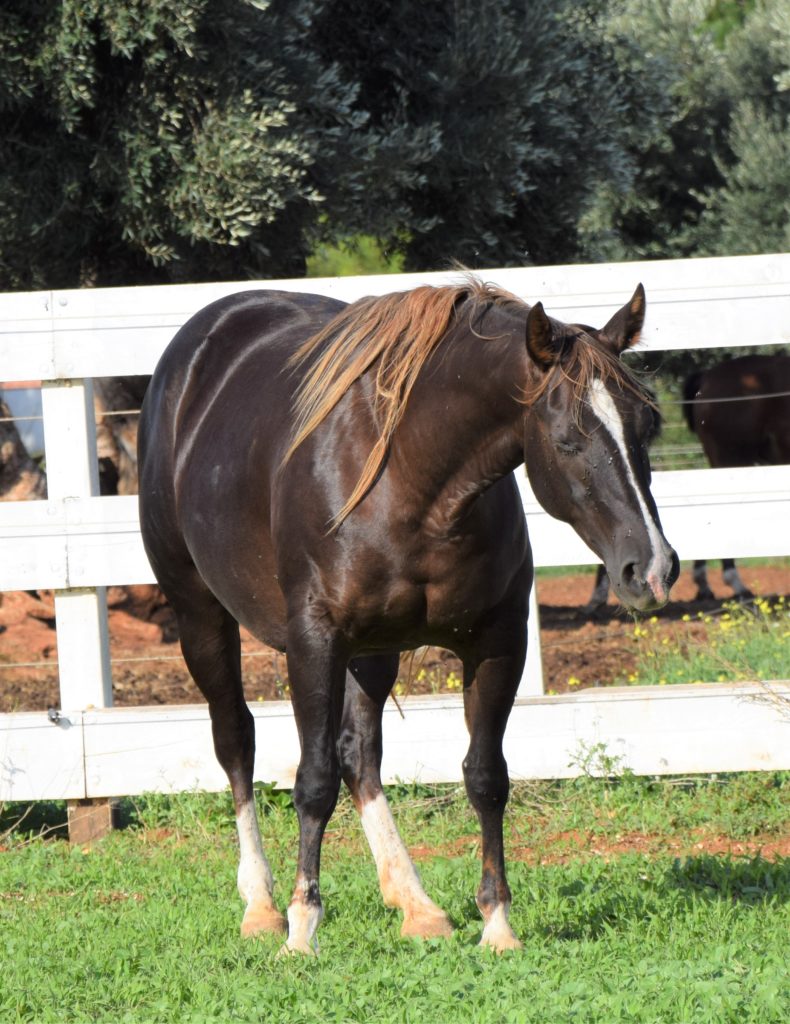 Contact us for any further detail!