SPOOKS GOTTA SNAP 
Date of birth: January, 12 2017
Breed: AQHA
Color: Bay
Sex: Filly
Pedigree: SpooksGottaSnap_AQHA
Owner: Quarter Dream 
Programs Enrolled: IRHBA | SSP Germany | NRHA European & North American Nomination 
Sire:
SPOOKS GOTTA WHIZ
(NRHA LTE: $350,000+ – The only horse to win the Open NRHA Futurity, NRHA Derby, NRBC, World Equestrian Games Team Gold and Individual Gold, 2014 WEG Individual Gold Medalist, 2014 WEG Team Gold Medalist, 2012 NRHA Derby Open Champion, 2012 NRBC Open Champion – score 236, 2011 Cowboy Capital Classic Open Reining Champion, 2011 NRHA Open Derby Finalist, 2011 NRBC Open Finalist, 2010 NRHA Open Futurity Champion
, 2010 High Roller Reining Classic Reserve Champion
, 2010 Reining By The Bay 3rd Place Pre Futurity)
Dam: MISS TORI SNAP (IRHA/NRHA Producer) by Snapper Cal Bar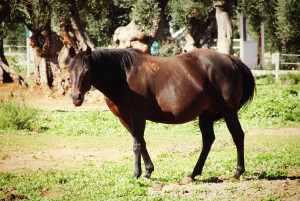 Dam's Sire: SNAPPER CAL BAR (NCHA $248,987 COA NCHA Non-Pro Futurity Champion NCHA Open Derby Co-Champion Breeding Stallion in Italy. Sire of many Champions. Actual winning get: 2003 Open Derby NRHA of Germany, 2003. 2004 Open + Non Pro Derby NRHA of Germany , 2004 Italian Open Futurity and many more.)
 Contact us for more informations.