IL BE AUTOMATIC
Date of birth: May 07, 2015
Breed: AQHA
Color: Sorrel
Sex: Gelding
Owner: Quarter Dream 
Pedigree: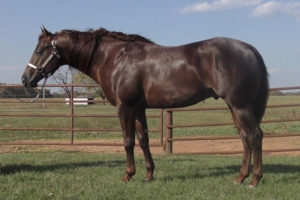 Enrolled/Nominated In:
Show records:
2018 NRHA Austrian Futurity 3 Yrs Old L1 – L2 Open Co-Reserve Champion;
….
Sire: MAGNUM CHIC DREAM $44,294 and 100 AQHA points: AQHA WorldChampion Senior Reining Horse; NRHA Limited Open Futu rity Reserve Champion; NRHA Hall of Fame; Su pe rior Reining. The 2017 NRHA #2 Leading Sire, and the NRHA #7 All-Time Leading Sire, siring earners of $4,800,000, including TARIS DREAMER ($181,697: NRBC Non-Pro Derby Champion; NRHA Int. Non-Pro Futurity Reserve Champion), LIL MAGNUM JESSIE ($177,411: NRHA Open Futurity Reserve Champion), MS DREAMY ($172,982: 2016 NRHA Int.Non-Pro Derby Champion; AQHA World Champion Amateur Reining Horse), CH I C D R EAM I N ( $ 1 5 8 , 3 3 7 : 2 0 1 7 NR B C Op e n D e r b y C h a m p i on ) , CHICSDUNDREAMIN ($153,607: AQHA World Cham pion Ju nior Reining Horse), MAG NUM STAR LIGHTS ($146,256: 2016 NRHA Open Derby Champion).
Dam: HICKADORA by Conquistador Whiz. 19.5 AQHA ranch rid ing points; 2016 AQHA Level 2 Amateur High Point Ranch Riding Cham pion; AQHA Amateur ROM. Dam of 2 foals of performance age, including a 3-year-old by Magnum Chic Olena, incl.– Lightly Chromed (c. by Cromed Out Mercedes). 2017 Arizona RHA Spring Novice Horse Open Winner; 3.5 AQHA reining points.