GUNNA BE MAJESTIC
Date of birth: April, 3 2007
Breed: AQHA/APHA
Color: Sorrel
Sex: Mare
Owner: Quarter Dream 
Pedigree: GunnaBeMajestic
In foal to: Sugar Little Step (due on January 2020)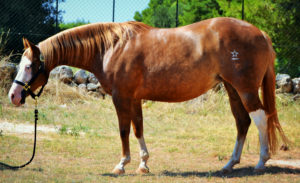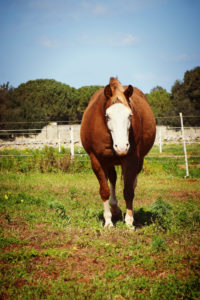 Sire: COLONEL SMOKING GUN – "GUNNER" (NRHA 7 Million Dollar Sire – NRHA Hall Of Fame) http://www.mcquaystables.com/in-memory-of-gunner/
Dam: SHE'S A MAJESTIC WHIZ (Earner of 63 points and Nrha $ 1,252.00: West Coast Spectular Int. Open Reining Futurity 4th, West Coast RHA Top Gun Open e Int. Open Futurity, Open Reining Circuit Champion Guadalupe Valley QHBA Fall Circuit, Open Superior Circuit. Dam of Nrha Money Earners Shiners Magic, Spooks Jac Nrha $ 7,000.00, Gunna Be Majestic $60,000.00, Wimpys Magic $ 1,430.00).
Dam's Sire: TOPSAIL WHIZ (Hall of Fame, `03 NRHA. ROM Performance, `92 O. NRHA money-earner. World Show Qualifier, `92 O Sr RN. AQHA Leading Sire, `02 NRHA Sire; `03 NRHA Sire. . Total Points Earned: 11; Perf Points: 11. NRHA Earnings: $49866. Stallion Offspring Record: World Champion Offspring. Reserve World Champion Offspring. NRHA Futurity Champion Offspring. Superior Performance Offspring. Quarter Horse Congress Get Winners. ROM Performance Offspring. NRHA Money-earners. NCHA Money-earners. NRCHA Money-earners. Halter Point Earners. Performance Point Earners. NRHA $53,868. NRHA Open Futurity 3rd, Lazy E Reining Classis Open Champion. NRHA Hall of Fame. Ten Million Dollar Sire and top sire of reining money earners as of 2009. )
GUNNA BE MAJESTIC Show Records:
Earner of over $ 60,000.00
2011 NRHA European Futurity Open, Int. Open Finalist;
2011 NRHA Italian Maturity ancill. classes Novice Horse Open Champion;
2011 ARHA Western Star Derby Int. Open 1st go Champion;
2011 ARHA Western Star Derby Open 4th place;
2011 NRHA European Derby Open/Int. Open Finalist;
2011 NRHA Germany Breeders Futurity Lev. 4 Open 4th;
2011 NRHA Italian Futurity 4Yrs Old 1st go Champion, Re-Champion in the final;
2012 NRHA Winter Trophy Open Corropoli Champion;
2012 NRHA Roma Cavalli Open 6th;
2012 NRHA 23 Classic Open 5th;
2012 ARHA Futurity ancill. classes Open Champion;
2012 NRHA European Derby Lev 4 Open Finalist;
2012 NRHA Italian Maturity Open 5th;
2012 NRHA Reining International de Lyon Open 3rd;
2013 NRHA Reining International de Lyon Open 4th;
2013 NRHA Battle In The Saddle Open 3rd;
2014 NRHA 23 Classic Open 3rd;
2014 NRHA Roleski 4 Spins II Open 3rd;
2014 NRHA SVAG CS Classic Open 4th;
2014 NRHA European Derby Lev. 4 Open Finalist.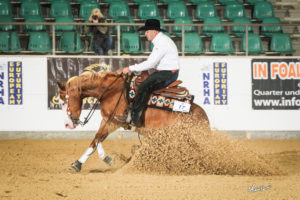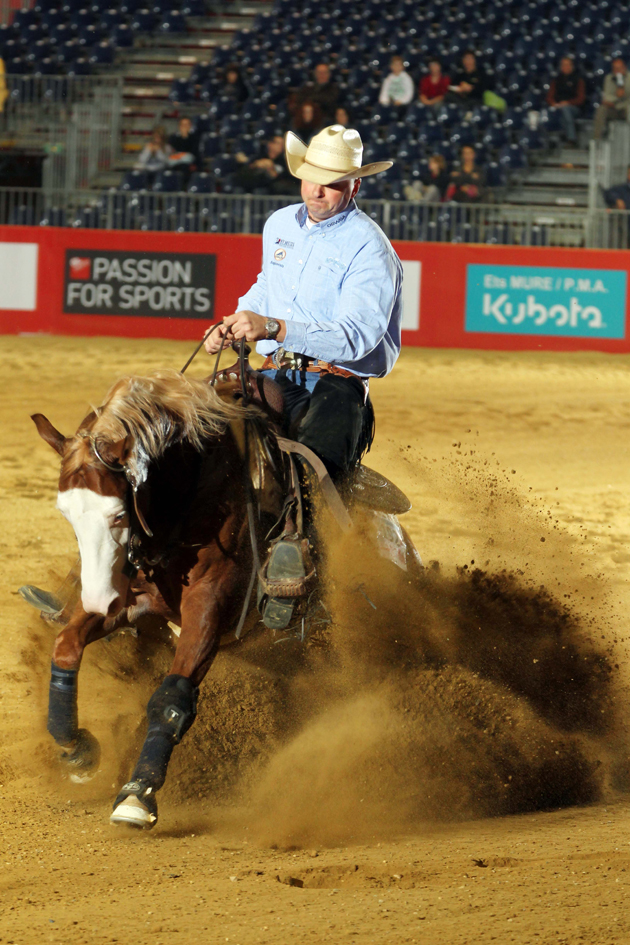 GUNNA BE MAJESTIC Produce Records: 
2014 RUF MAJESTIC GUN QH/PH Sorrel Stallion by Lil Ruf Peppy (ET)
2014 GUNNA BE SPOOK QH Sorrel Mare by Smart Spook (ET)
2017 VOODOO MAJESTIC GUN QH Sorrel Stallion by Shiners Voodoo Dr
2018 –

 Contact us for more information.